Explosion-proof workshop door
Shanghai jing peng special explosion-proof rapid rolling door, be applicable to the special working environment, explosion-proof motor, explosion-proof explosion-proof electric box and other accessories, satisfy the intensity of gas, dust and other inflammable and explosive environment requirements. Quick access, improve work efficiency, safe and reliable. Applicable environment: > indoor and outdoor special working environment > printing, spraying, petrochemical, printing ink processing industry > fire protection, explosion-proof areas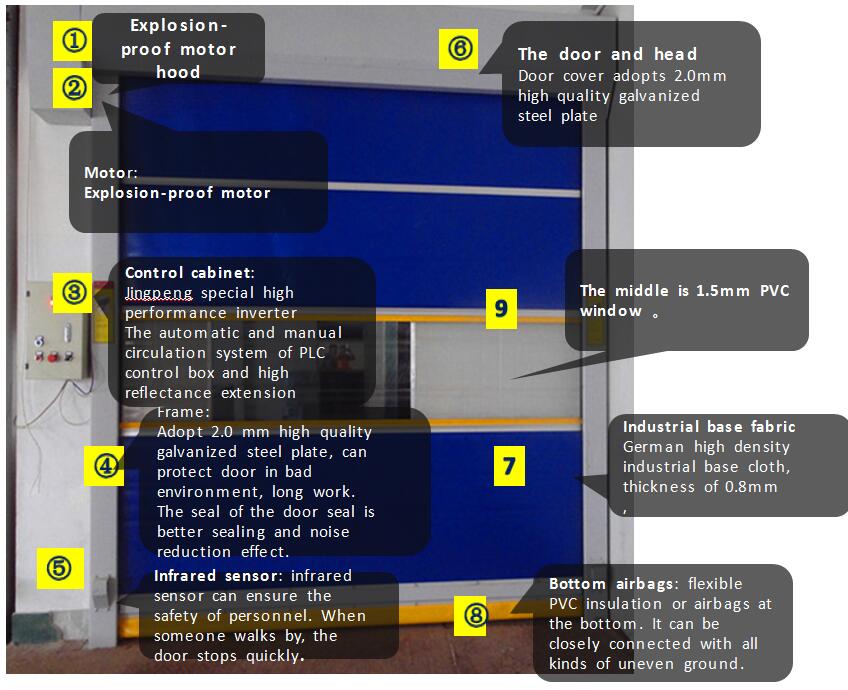 Technical parameters:
JLKSM Shanghai jingpeng special explosion-proof door
Appearance: high strength anti-oxidation aluminum alloy door frame, silver white, meets the standard of 6063-t6, cold plate electrostatic spraying door hood, chassis.
Dynamic performance: explosion-proof motor
Control system: explosion-proof control box
Control voltage: safe and low pressure 24VDC.
Open speed: turn on 0.8-1.5m/SEC/close 0.6-1.2m/SEC (variable frequency adjustable speed).
Base material: high density polyester fiber surface coating treatment, thickness of 0.8mm, color choice.
Tensile strength: 5700/5100N / 5cm, tear strength 900/80n.
Fireproof level: German standard MZD/NBL is difficult to fire.
Temperature: - 10 ℃ to + 70 ℃.
Transparent window: imported PVC transparent crystal soft board, thickness 1mm, rectangle or oval.
Wind resistance type: aluminum alloy with anti-wind rib, sectional connection and convenient replacement.
Wind resistance: 9m/s (50Pa standard 3 by 3).
Sealing performance: the bottom of the door curtain can be tightly closed with uneven ground, and the door frame is sealed with double-sided seal, anti-dust and insect repellant.
Safety configuration: standard infrared photoelectric protection, pressure air bags, warning lights, anti-collision columns, power blackouts manual rocker.
产品配件

Explosion-proof electrical box

Shanghai jingpeng offers you many Suggestions for the system:
Manual button control (basic configuration)
Manual pull rope control (economical and practical)
Geomagnetic induction control (for vehicles and equipment channels)
Remote control (remote control)
Radar induction control (for logistics and personnel channels with large flow)
Dual photoelectric control (special logistics channel)
Two door interlocks, linkage (for high cleanliness requirements)
*

Indicates Required
Inquiry
Hot Products
No Information
Contact Number:
021-63637887
Hotline: 400-820-3520
               021-63637887
               021-63635127
Email: shjinglian@126.com
Address: Building 7, Lane 415, Gulang Road, Putuo District, Shanghai