Large door opening flexible lifting door
Shanghai jing peng super flexible doors, doors, suitable for large workshop and large internal environment block closed, door curtain made of lightweight nylon fibre fabric and steel rod of wind resistance, wind resistance ability, cut off area is large, dust, insects and heat preservation. Applicable environment: > indoor and outdoor super large space. > heavy industry, light industry, automobile industry, shipbuilding, manufacturing, hangar, garage, underground car park, mobile plant. > anti - wind, dust and heat preservation area.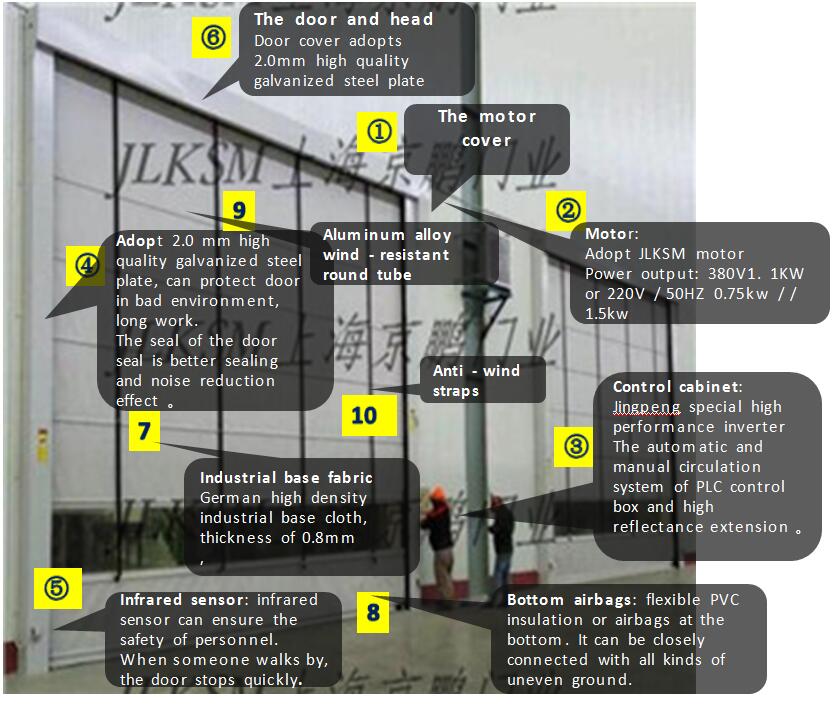 Technical parameters
Shanghai jingpeng large and super fast stack door
Size: maximum H15M * W35M.
Appearance: cold plate electrostatic spraying door frame, cold plate electrostatic spraying door mask.
Power performance: special JLKSM brake braking motor, power 1.5-5.5 KW, power supply 380V, braking voltage 220V. (if other brand motors are needed, please consult customer service)
Control system: JLKSM high quality microcomputer programming conversion control box. (if other brand control systems are needed, please consult customer service)
Control voltage: safe and low pressure 24VDC.
Open speed: open 0.3-0.8 m/s/close 0.3-0.5 m/SEC (frequency conversion adjustable).
Door curtain material: high density polyester fiber surface coating treatment, thickness of 0.8mm, color choice.
Tensile strength: 5700/5100N / 5cm, tear strength 900/80n.
Fireproof level: German standard MZD/NBL is difficult to fire.
Temperature: 15 ℃ to + 70 ℃ / super cold area - 40 ℃.
Transparent window: imported PVC transparent crystal soft board, thickness 1, rectangle or oval.
Anti - wind material: wind - resistant steel.
Wind resistance: 20m/s50Pa.
Sealing performance: the bottom of the door curtain can be tightly closed with uneven ground, and the door frame is sealed with double-sided seal, anti-dust and insect repellant.

Shanghai jingpeng offers you many Suggestions for the system:
Manual button control (basic configuration)
Manual pull rope control (economical and practical)
Geomagnetic induction control (for vehicles and equipment channels)
Remote control (remote control)
Radar induction control (for logistics and personnel channels with large flow)
Dual photoelectric control (special logistics channel)
Two door interlocks, linkage (for high cleanliness requirements)
*

Indicates Required
Inquiry
Hot Products
No Information
Contact Number:
021-63637887
Hotline: 400-820-3520
               021-63637887
               021-63635127
Email: shjinglian@126.com
Address: Building 7, Lane 415, Gulang Road, Putuo District, Shanghai