Fast stacking door, strap door, fast shutter door manufacturers, JP-BD04
Source : Shanghai Jingpeng
Clicks : Loading ...
Issuing Time : 2017-06-02 10:07:49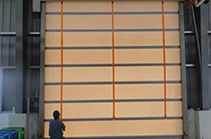 Product Name: Rapid stacking door, strap door, fast shutter door manufacturers, JP-BD04
   Product Type: 6/6/27
Shanghai Jingpeng strap fast shutter doors, automatic roll doors nice, good insulation effect, speed and can be commissioned according to customer needs, mainly for the door to take up small space and other characteristics. Shanghai Jingpeng company specializing in manufacturing fast door strap type, fast accumulation type, fast shutter doors, high-speed shutter doors can be customized according to customer needs.
(A) Beijing Peng fast shutter doors, fast accumulation of doors Detailed material:

1, Jingpeng door frame material

The door frame is 2.0mm thick Baosteel cold plate plate steel structure, the edge processing and high quality paint processing, color optional, aluminum alloy door frame or stainless steel door frame, according to customer needs custom.

2, Jingpeng fast shutter doors curtain material

(1) high-density industrial base fabric Origin: France Thickness: 0.8mm

Technical Parameters:

Tensile strength (by / latitude): 5700 / 5100N / 5cm;
Tear strength (by / latitude): 900n / 800N;
Use temperature: -30 ℃ ~ +70 ℃;
Fire rating: French standard NF-P92-503 or German standard M2DIN4102B1
(2)All transparent PVC film
Transparent window optional rectangle or oval, increased security and management convenience.

(B) Jingpeng fast shutter doors, stacked door features:

1, the accumulation of the door Scope:

It is widely used in food, chemical, textile, frozen, electronics, printing, supermarket refrigeration assembly, precision machinery, logistics warehousing, etc., with insulation, cold storage, windproof, dustproof, soundproof, fireproof, anti-odor lighting and many other functions. A variety of places, for the logistics channel, a large area of the hole, high wind and other requirements inside and outside the door. Can improve the performance of high-performance logistics and clean places, and save energy, improve air conditioning, high-speed automatic closure, improve the efficiency of the advantages of efficiency.

2, open and close speed:

0.6-1.5m/S

3, the accumulation of door safety performance:

Orange flashlight, the door is turned on or off, the red light flashes to warn, power failure with a manual joystick can be gently open and closed, more security, convenience.

4, the accumulation of sealing performance:

Bottom with a flexible PVC base fabric, it can be closely integrated with a variety of uneven ground up to 10,000 sealed standard. Both sides of the post are equipped with a sealed brush to reduce noise and increase the sealing effect.

5, the accumulation of door wind pressure performance

Curtain with a dedicated wind pipe, according to the size of the wind pressure to choose the number of tubes, the more the number, the stronger the wind pressure performance.

6, the accumulation of door power performance:

The world famous brand BONFIGLIOLI; motor, three-phase 380V, 50HZ, IP55, power 0.75-3.0kw

7, Jingpeng door control mode:

The company provides you with a variety of manual or automatic control system to meet the user on the door open or open the way requirements: 1. Manual button control 2. Manual rope control 3. Manual remote control 4. Geomagnetic ring induction control 5. Photoelectric induction control 6. Radar induction control 7. Interlocking control, 8. Automatic control of voice, 9. Automatic access control.

8, Jingpeng fast shutter doors

Color optional